I have been a George Nakashima fan since my neighbor lent me his autographed copy of Soul of a Tree. Nakashima was a master at blending crisply-cut details with wild look of wood slabs cut from the log.  Live edges, bark inclusions and all make his tables something much more grand than just a plain old table.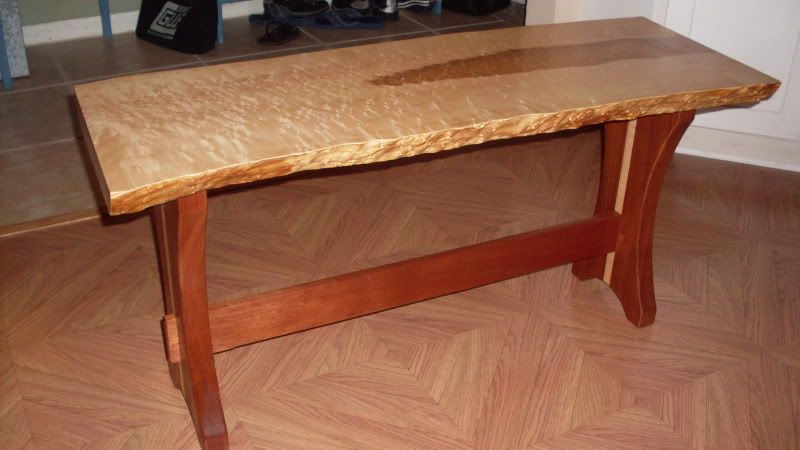 For the past few years, I had wanted to find a suitable piece of wood to use to build my own slab bench, but my hardwood suppliers here in Florida weren't able to easily lay their hands on such a board.  When I had mentioned what I was looking for to Eric Poirier of Bell Forest Products, he located the sweet board for me.  Hard maple with both bird's-eye and tiger effect in it.  The wood makes the bench for me… And, the live edge of the board… WOW.
For the base, I used some mahogany and a strip of tiger maple.  My friend Craig Andrews drew out the base for me on Sketchup, and it looked very cool.  I used a jigsaw and my oscillating spindle sander to bring it to final shape.
The stretcher passes through two open mortises in the legs, giving some visual interest to the piece.  There is a top stretcher that is mortised into the two legs.  This provides a more than adequate surface to screw the top to the base.  Yes, I used screws.  The thought of cutting and chiseling through that board's surface for through tenons didn't do anything for me.  Maybe for a more ordinary looking piece of wood on a later project…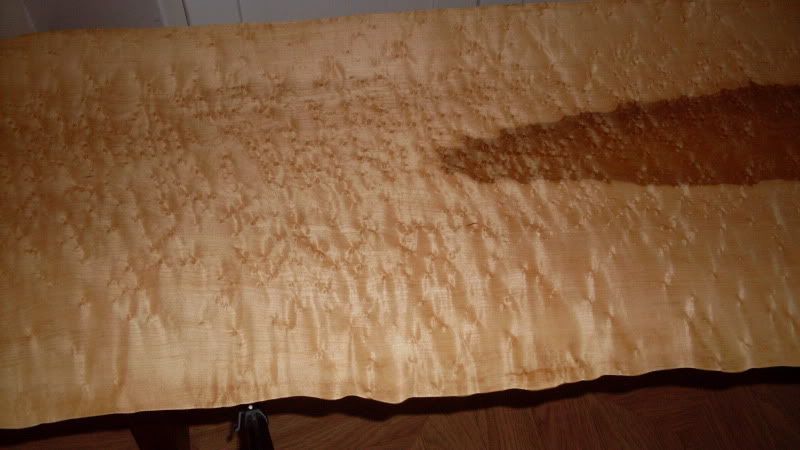 I had to start the finish at my hardwood supplier, Weiss Hardwoods in Largo. They had the big Powermatic wide format belt sander that took the wood from rough to baby's bottom smooth in about three minutes. I gladly paid the very reasonable fee to have this done for me instead of trying to scrape and sand it smooth myself.
Once I got it home, I used card scrapers and my cabinet scraper to fine the surface up even more.  A coat of 1# cut shellac sealed all of the wood on the project, and I sanded that down with 400 grit wet/dry paper to make the wood velvety smooth.   I followed that with three top coats of my finishing mix on the entire project, sanding with 600 grit paper between.  Then, two coats of wipe on poly were added to the top to provide additional protection.  This was finally followed by some paste furniture wax.
This was a very rewarding project.  I love to watch people run their hands over the polished top and the live edges when they see it for the first time.  That tells me that I think I may have done Nakashima proud.