It may seem tough to believe, but I actually have two consuming passions in my life.  (Well, three if you count my wife – I don't think she'd ever forgive me for NOT counting her on the list!)
Woodworking is of course one of my favorite things.  The other is the weather – especially hurricanes.  That's why my office sent me to the National Hurricane Conference taking place this week at the Austin Convention Center.
All day during the conference, I've been learning about hurricanes – how they form, how they are tracked and how people can get ready for them.  I've also been doing some teaching about how to communicate the risk to their residents about the threat posed by these storms.
That's been a great way to spend the day.  However, at night, I've been staying at a good friend's home just outside of the city.  And, he's a woodworker.
I met Craig Andrews while at a woodworking school up in Indiana.  We have kept in touch, and he is hosting me at his house.  Besides the great Tex-Mex food, we've been doing a little work in his shop.
Craig, as with many other woodworkers, works out of his garage.  He has many of the standard tools you would expect to find in a typical shop – a Delta contractor's table saw, a band saw, drill press and other power tools.  He is also an avid hand tool collector and has become highly skilled in their use.  His shelves have more than their fair share of Veritas and Lie-Nielsen planes tuned to perfection.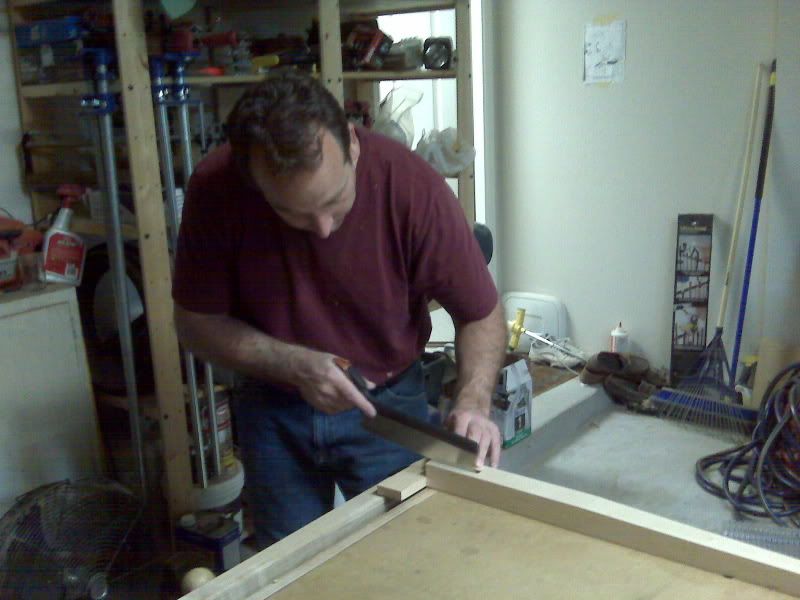 Before the trip, Craig promised me that he would show me a technique he picked up  on how to hand cut a haunched tenon.  Armed with a Veritas dovetail saw, a few chisels and some hand planes, we made a sample tenon to fit into a pre-milled mortise. Since all I had was the camera on my cell phone, I couldn't get good shots.  However, I will write that technique up once I get back to my shop.
I also built him a bench hook for his planing and sawing chores.  Since he does so much hand tool work, it was something that's going to make his efforts easier and more effective.
We worked at his bench until late in the night and had a great time making sawdust and swapping tall woodworking tales.
The best part about the entire trip is that I got to learn a lot more about weather and woodworking all at the same time.  And, a two-for-one is always a good thing.