In case you haven't yet guessed, I love to write.  And, when readers of Tom's Workbench send me an e-mail, I enjoy the back and forth that takes place.
Some people have called me a know-nothing hack, while others have said I'm pretty decent with a saw.  While those are intersting to read, the ones I really enjoy are those that come in from readers asking for my opinion or assistance because – for some strange reason – they want to use a technique I had described.
This past April, reader named Big Bill McDonald wrote in, asking what appeared to be a simple question about the finishing recipe I had described in my post I'm So Finished.
Little did I realize that for the next four months, Bill and I would be exchanging a series of e-mails back and forth about finishing methods and philosophies.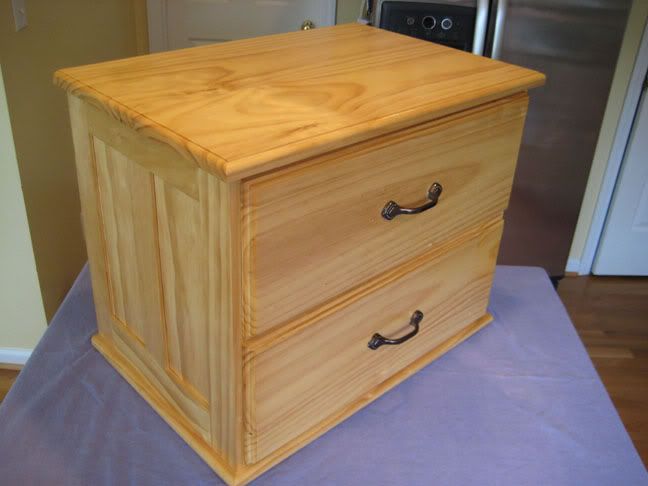 Bill stared out asking about using the Rude and Crude finishing method on a pine toy box he had built.  Concerned about splotching on the piece, we communicated about the shellac seal coat and its purpose and the rest of the finishing regimen.  Judging from the results he got, I'd say this piece came out beautifully, and his son Ben should be one very happy camper to have such a nice piece in his room.
Being that we are both dads, we quickly understood that one project was going to lead to many more. The next one he tackled was a very sweet looking walnut and oak step stool, so his kids would be able to do those important tasks we always hope they will learn to do WITHOUT us having to hound them… (OK, go back into the bathroom, flush AND wash your hands with soap…)
Ben had based his design on a piece he saw on the Internet.  Using strips of walnut and oak to laminate the panels, Bill did a very good job, building a sturdy step stool that will see many years of good use.
Of course, the stool presents its own challenges – it will stepped on by clean and not-so-clean shoes and will undoubtedly see a lot of water.  Bill was concerned that the finish recipe may not be durable enough to survive those rigors.  Once I assured  him that the step stool I built for my sons managed to survive with very few marks, he seemed relieved.
Now, to be fair, Bill did start this last series of e-mails with the line:
Ok – this is my LAST finish question, I promise ! (I say that to myself every time – sigh.  Finishing, I have learned, is it's own whole world).
However, that's OK if you keep e-mailing, Bill.  It has been fun discovering this world of finishing with you, and you are teaching me a great deal about your methods along the way.
E-mails like yours are some of the best I get in my inbox and prove, once again, that the online woodworking community is an active and vibrant one.