Step right up, ladies and gentleman.  I, The Great Trained Shop Monkey,will amaze and astound you with the paranormal mortising abilities taught to me by the mystic woodworkers of Exotic Imperial China and the Indian Subcontinent.  Using no more than a common table saw, I will cut a crisp-shouldered through mortise with absolutely no tear out which can accent any piece of work you want to add it to.  That's right, folks.  No mortising machines.  No fancy chisels. No router jigs.  No new expensive tooling of any kind. Notice… nothing up my sleeve, nothing between my ears…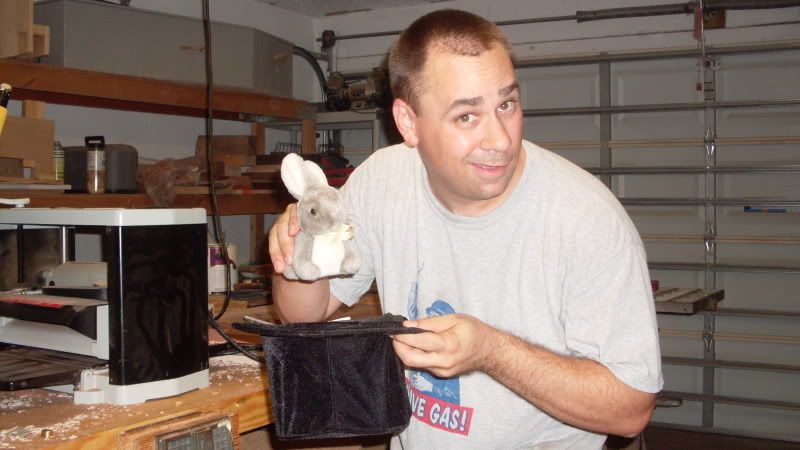 First thing I'm gonna do is cut some pieces of mahogany and maple.  That's right, the mahogany will serve as the bulk of the leg stand for a bench, and the maple strip will serve as an accent piece to show some interesting contrast.  I also cut a length of tenon stock the exact dimensions I need the mortise to be.
From there, I set up the two side pieces of mahogany on the clamps, giving some room for the maple accent strips to be glued…
Then, I glue up the first maple strip, set it to the magic line of measuring, and clamp it in place, keeping the faces flush.
Without further ado, I wedge the tenon stock in and glue up the second maple strip, insert the tenon stock in the gap and glue the top maple strip into place, again keeping it flush with the faces.
Now, I say the magic works – Abra cadabra, hokus pokus, alakazam –  and blammo – I knock the tenon stock out of the hole leaving a perfect nothingness surrounded by a square-shouldered mortise with absolutely no tear out.  No mirrors, no tricks, no sleights of hand…
Now, all I have to do is work a little magic on shaping the legs of this bench….