A few weeks ago, I was marveling at the design of some benches built by Japanese woodworking master George Nakashima.  He had a way of blending crisp joinery with the natural raw character of some choice timbers.
Woweee… wouldn't it be great if I could find some cool looking lumber like that.  Some figure.  Some color.  Two awesome live edges.
I started poking around my lumber suppliers here in Florida, but I was out of luck.  Most of the lumber that comes in here is already at least rough cut on four sides, leaving just a stray bit of wane on the outside of the board.  The timbers were very nice, but they didn't do it for me.
That's when I asked Eric Poirier of Bell Forest Products to take a peek around his inventory.  At first, things didn't look so promising, but he assured me that there was a new batch of wood in the kiln that might have some likely candidates.
Would this count as a likely candidate?
This is a piece of gorgeously figured bird's eye maple.  It is about 36″ long by 14″ wide by 2″ thick.  The best part of this board is that it has a live edge on both sides… which means this bench will be viewable from both sides… pretty striking.  There is a dark mineral streak running about half the way across the board, giving an interesting contrast across the face of the board.
According to Eric, finding a piece of wood like this is pretty rare for his operation.  "Most of our 8/4 Birdseye gets edged to sell as grade lumber, so finding a live edge board like that is something special! "
As many of you have discovered, while bird's eye maple is beautiful to behold, it's a pain in the rear to work.  Even my sharpest smoothing plane gave me very bad tear out.  So, I have resorted to my belt sander with a coarse grit belt to get the faces of the board ready to work, and I'll go to finer grits and ultimately a scraper to get the surface ready for use.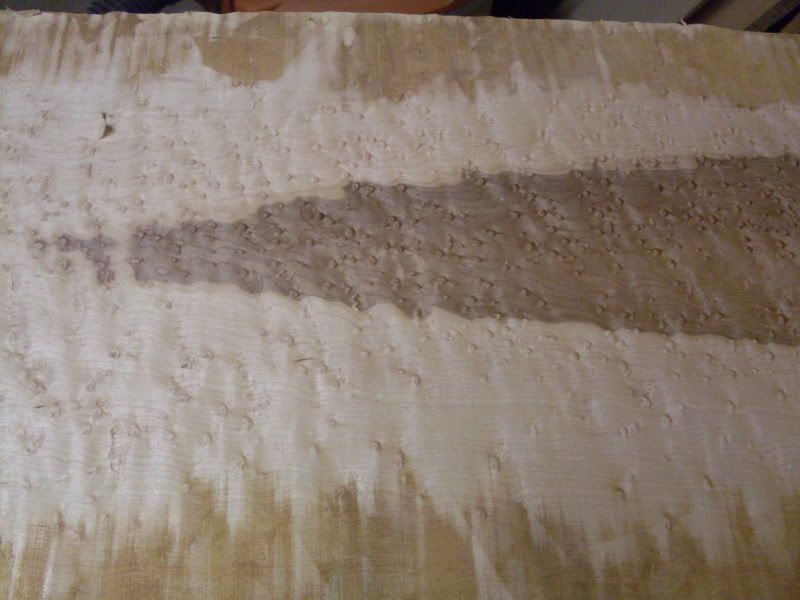 I took some time over this past weekend to start working on a simple mahogany base for this bench.  That should provide an interesting contrast for the top.
More to come…