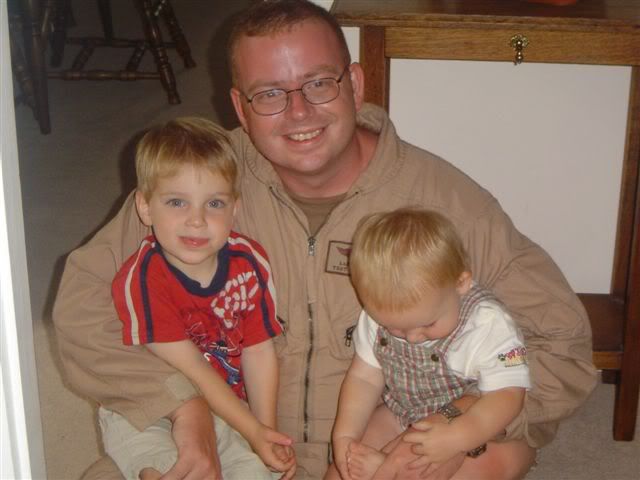 Take a look at this guy.  Who is he?
Well, he's someone I know from the States who is now deployed *somewhere* in southwest Asia. His name is TSgt. Lawrence Richards  with the United States Air Force. This year, he's not going to be home with his wife and two kids. Daddy won't be there when his boys open their presents.
Why bring this guy up in the first place?  Well, I know him.  No, I've never met him, but he's a regular poster with me over at the Woodworker's Website Association (WWA).  He's a pretty darned skilled hobby woodworker and has well developed sense of humor.  All in all, a very funny guy to get to know. We've become fast friends – even though we've never met.
When he was deployed a few months ago, he let us know over at the WWA that he was going overseas, but that he'd have the opportunity to keep up with happenings on the board. He also asked – rather hesitantly – for a few things to make life a little more comfortable for he and his buddies.  Some hooks to help keep their shower towels off the ground.  Letters and cards of encouragement.  Some decorations to bring the spirit of Christmas to their camp.
And a block of basswood for him to practice wood carving.  Something woodworking related he can do away from his shop.
If you think about it, this isn't just a story about one  Airman deployed overseas.  There are hundreds of thousands of others out there – from nations outside of America, too.  There are British soldiers keeping the peace in Kosovo.  Canadians in Haiti attempting to bring relief to this impoverished nation.  Australians and New Zealanders in Timor Leste to restore order in the midst of chaos.  And there are dozens of other nations who have service men and women who have answered the call and are now thousands of miles from where they would most love to be. There are soldiers, airmen and women and Marines stationed at bases around the world.  Sailors and Coast Guardsmen and women stationed on ships at sea.
And, in many cases, the presence of these young men and women in these countries is all that stands between a relatively peaceful existence and deprivation, chaos and fear for the local citizens.
In their homes, there will be also that empty seat at the table and the people they love hoping and praying for a speedy and safe return.  For some of these families, this is a familiar situation due to previous deployments, and they each turn to their own way of coping.  For others, it's the painful realization that their son, daughter, brother or sister has gown up and is now away from home for the first time – ever – in his or her life.
And, some of them are woodworkers that you or I might know.
This holiday season, while we're all wrapped up in building holiday projects, finishing shopping and wondering how we are going to deal with our in-laws… take some time to think of the folks like my pal Lawrence and their families who will be missing them during this season of joy.
For me, I was able to box up some candies and a host of old woodworking magazines that were crowding my shelves.  Maybe it wasn't a lot.  But, if I could bring just a moment of rest from the monotony of the daily grind, the terror of the potential of attack and the longing for home and family, maybe I might have done something worthwhile.
Here in the United States, the United Service Organization (USO) is just one organization that does tremendous work in helping our service men and women deal with the separation from home and the reunions with their loved ones.  I'm sure many other countries have similar organizations.  If you can, please remember to do something those who have answered the call of service.
It just might mean the world to them.
May each of you have a blessed and joyous holiday season.