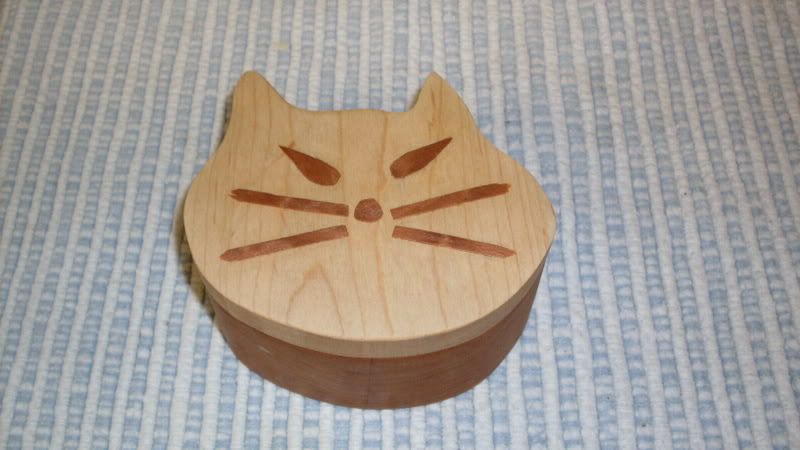 This is one of those projects that you don't want to build, but want to put yourself into 100% once you agree to it.  Recently, a friend's cat passed away quite unexpectedly.  It was pretty traumatic for her, and she asked if I would be able to build something for her to keep some of his keepsakes in – his collar, a clipping of his fur… stuff like that.
At first, I wanted to build a basic rectangular box out of some exotic woods, but I hadn't yet built a full-blown bandsawn box.  I figured this would the an excellent opportunity to give it a shot.
The body of the box was cut from some 2″ thick cherry scrap, and the top was taken from a waste piece of maple I had planed to 3/8″ thick for a previous project.  You see why now you can NEVER part with a scrap of wood!
Once the pieces were milled square and true, I sliced a chunk off the bottom of the piece for the box bottom.   Once I had done that,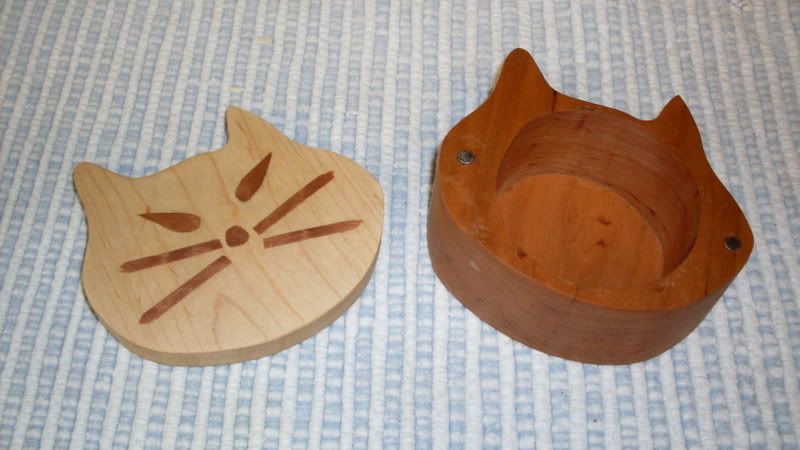 I taped together a sandwich of the pieces – the two cherry and the maple.  I cut the outside of the box, then cut out the circle on the inside of the middle piece.
There was a tremendous amount of sanding required to get the box into shape.  Apparently, my narrow blade had too many teeth per inch, leading to tremendous burning, especially in the cherry.  That's something I'm correcting by getting a 3/16″ blade with far fewer teeth…
Once I glued the peices together and sanded again, I inlaid four rare earth magnets – two in the top and two in the body – to serve as a 'latch' for the box to keep the top affixed.
Before finishing, I cut some scrap veneer pieces to make the eyes and whiskers and glued them on with hide glue.  This way, it was easier to scrape and sand the leftover bits of glue off the maple.
Finishing included my standard wipe on of 1# dewaxed shellac.  After letting it cure and sanding it down with 400 grit wet-dry paper, I wiped on two coats of my own homebrew finish.
I guess I hit the mark.  Shortly after she recieved the box, she called me, in tears, to thank me for the project.  At least I was able to help her through a tough time…