In my experience during the past decade, I've found that woodworkers are an exceptionally generous bunch.  Most of the time, you can find them building gifts for friends and neighbors or volunteering their time to work on a project for their local school, scout troop or place of worship.
This past weekend, I met a group of woodworkers called the ToyMakers of East Lake at a community event, and their story was a heartwarming one.
Back in 1982, a woodworker named Jim McCullagh was alarmed to hear that his grandson had no toys to play with while staying at a children's hospital.  Knowing that play can at least help keep little minds occupied, he and several friends began making small colorful wooden toys.  That was the beginning of the ToyMakers organization.  As the years past, the effort gathered momentum, and today, there are 101 chapters across the United States and four in Canada.
I met with Gene Watson, Mac Russell and John Little of the ToyMakers' East Lake, Florida chapter, who graciously offered to take me on a tour of their spacious workshop.  Situated in an abandoned garage on some land owned by a nearby Methodist church, the space allows the nearly 50 members and associated volunteers the space to work.  Donated tools – band saws, table saws, sanders and drill presses – line the walls and occupy the shop floor.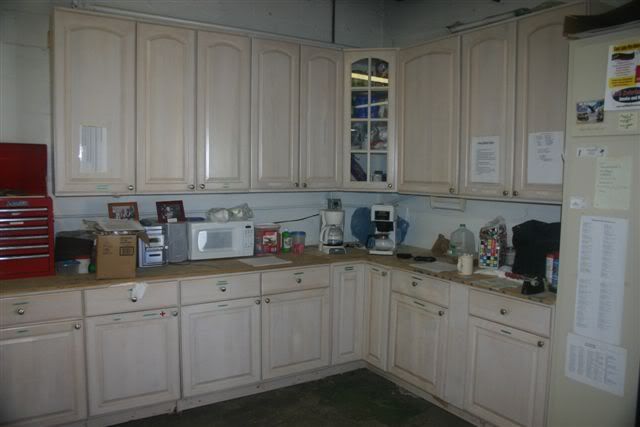 Even the shop cabinets were donated to the effort.  In fact, they were actually custom high-end kitchen cabinets in a home until a chemical spill during a counter top installation went wrong, staining some of the cabinet doors.
I arrived during one of their Saturday work sessions (They also have Tuesday morning sessions).  Stacks of donated wood from area hardwood suppliers were stacked in shelves.  Even though some of the members were away exhibiting the toys at other community events, the reduced crew was very busy cranking out parts for wooden ambulances, fire trucks, helicopters and other pieces.  While some of the workers were cutting, many other were sanding, painting and assembling the vehicles to prepare them to go to kids in the community.
Because of the ToyMakers' non-profit status, high school students who are required to do volunteer service to qualify for state scholarships often sign up for service with the group.  Given that the fate of their scholarships rides on their volunteer hours, working with the ToyMakers is a pretty enviable assignment.
 Some of the toys do go to kids in area hospitals, while others go to other critical contact points with the community – organizations that shelter families from domestic abuse, centers that help parents break drug addictions – wherever the need is most critical.
While building the toys is a satisfying way to spend a Saturday, the real reward comes when the toy deliveries take place.  The group aims to have four toy deliveries a year.  Three months' work can result in nearly 1,000 completed toys for area kids.  In fact, the group's motto is that they, build smiles, one toy at a time.
As I left the shop after one of the group's coffee breaks, the members were right back to work. After all, the holidays are coming quickly, and there are so many more toys to build.
…
 P.S. – The members of the group asked if I could post the following:  For other individuals or groups interested in starting their own group of ToyMakers, we would be most privileged to furnish  patterns, methods and suggestions that we have found to be most appreciated by the children and the centers where we deliver.