Raising kids today can be quite a challenge.  I want my two sons to grow up as generous young men, not thinking solely about themselves.  The holiday season always poses the toughest challenge of the year.  My wife and I have had to work hard to ensure that the holidays are not just about Me! Me! Me!, but about the spirit of giving to those who are less fortunate than we are.
For instance, at my office, we have a holiday bike drive that provides new bikes to kids who are receiving social services.  All through the year, my co-workers and I throw our pocket change into a container to add to the effort.  It's an effective and painless way to give to the cause, and in years past, we there have been times we have managed to collect more than $250 that way.  I have encouraged my sons this time of the year to collect the pennies languishing in the bottom of their desk drawers and contribute them to the drive, and they have done so willingly.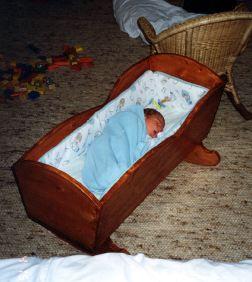 Another, more heartfelt way we have given back started a few years ago as a way to clear space in our house.  I had built a cradle for my youngest son just before he was born.  It was just a plain pine model screwed together.  At the time, I thought it was the epitome of craftsmanship…
But, as my skills progressed, I soon realized that it was nothing but a simple screwed together pine cradle.  Since I was sure that I could do better when my grandchildren arrive in a few decades, I loaded the cradle into the back of our van early one morning and left it by the front door of a local pregnancy crisis center.  We attached a note:
Dear Folks:

Please be sure this cradle is given to a young mother who may not be able to afford to give her new child something nice this holiday.

Santa
I needed my sons to be there to see what generosity means this time of the year.  An anonymous donation of something special  may have meant the world to a frightened young lady.  My boys learned a lot that day, and I could see that they were getting the message that it's great to give to others without praise or reward.
Since then, I've made it a point to donate other hand crafted things to that center…either more cradles or a simple rocking horse built from a plan I use.  I always drop them off with the same note.
This year, I am planning on doing more of the same. I have gotten a lot of encouragement  from my friends at Wood Magazine. They provided me with a plan to build their classic  Heirloom Cradle.  No, I decided against building the storage box…  I'm just tackling the cradle to keep things simpler in the hectic holiday season.
Thanks also goes out to the folks at Bell Forest Products, who donated the maple and walnut for the contrasting wedges I will be using to build this piece.  Thanks, guys.
Through the building process, I'll try to remember to post in-progress pictures (I am terrible about remembering this step, aren't I?) to document the building, and I hope to be able to drop this cradle off to the nearby center sometime before mid-December.
While I have always been a Secret Santa, this year, I thought that it would be a good idea to share this experience with my woodworking friends.  I'm sure that in your hometowns, there must be other similar facilities which serve those going through tough times.  I'm hoping that – if you are so moved – you might consider building a cradle of your own and dropping it off – anonymously.
I don't want to have to post this, but I believe it's important that I do. I understand that teen pregnancy or pregnancy outside of marriage can be a hot-button issue.  Just so you know, I won't be accepting or posting any political manifestos about the topic.  However, might I suggest that if what is written here does evoke strong feelings, perhaps you might want to consider channeling your energies to building something you find more palatable, like a rocking horse for kids getting medical treatment at a nearby children's hospital.
I know that one day my two sons will grow up, become young men, move away and eventually raise families of their own.  I just hope that the lessons my wife and I are teaching are something that stick with them, and that they pass them on to their children.
I have so much to be thankful for this year.  My wish for you is that  the holiday season brings each of you nothing but health, happiness and peace.
Happy Thanksgiving to all of you, my friends…