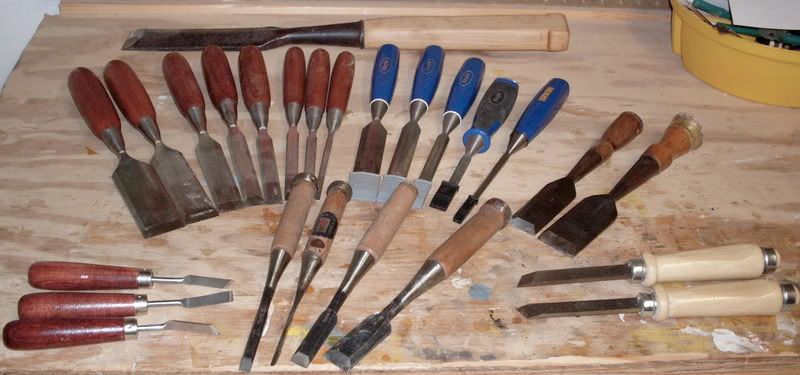 There are just some times when the best tool for the job is a well-sharpened wood chisel. Whether cutting a joint, trimming a plug or doing any number of other tasks, these descendants of some of the most ancient woodworking tools can be some of the most versatile multitaskers in the shop.
Here's my collection, spread out for your viewing pleasure. From the waaay back row:
A 2 1/2″ slick. This was an eBay score. The iron was found in a barn in upstate New York, so I had to fit a handle to it. I made this one out of maple in the shop. Once I figured out how to sharpen it the right way (It's enormous), it can pare very fine shavings off of even the trickiest boards.
The middle pack, from left to right, includes:
A set of Pinnacle chisels from 1/4″ to 1 1/2″. I traded a drill press mortising attachment for these beauties. The handles are very comfortable, and I'm in the process of getting them honed for regular use. The only knock is that they are a little narrower than advertised… not critical unless I'm cutting joints.
A set of Marples Blue Chip chisels from 1/4″ to 1″. These are my work horses in the shop – the ones I reach for first. Got the 1″, 3/4″ and 1/2″ ones as a set, then added on the 3/8″ and 1/4″ later to round out the set.
The two on the extreme left of that middle row are a pair of 'pound puppies' I found at eBay. Dirt cheap, they are two old Buck Brothers chisels – 1 1/2″ and 1 1/4″ size. I sharpened them, and they work very well.
In the front row from left to right, I'll start with the three Lee Valley Crank Neck chisels. Sometimes, you need that little offset bend to get a little bit of glue out of a corner. These chisels fill the bill. They are kinda small, but they work well. I have a left and right skew, as well as a square nosed one.
The middle chisels are my pride and joy. These are a set of Japanese chisels I got from a friend. They belonged to his dad, a respected architect in Osaka, Japan, and my buddy was keeping them in an old coffee can in his garage. I have them honed razor sharp, and use them for light chopping and some paring work.
The last two chisels were given to me as a birthday gift. They are a pair of right and left skew chisels from Lee Valley. For those really odd jobs, they work out well. I'm sure I'll end up using them more and more as I continue to build.