I'm sure that most of you are on tenterhooks, anxiously awaiting the results of the Great Wood Movement Experiment of 2009.  And, yes, I did promise that about two weeks ago, I would have the results.
However, a little thing called 'Life' got in the way.  My timing was terrible.  My two confederates in this project  – Dave Campbell and Marc Spagnuolo – both had things that kept them away from measuring the sample boards I had sent.  For Dave, it was a family camping trip that set him back a day or so.  For Marc, I must have been clairvoyant.  I sent him the boards smack in the middle of a move between houses. No wonder it took some time to get the results back.  Dealing with power, phone and cable companies takes time!
Anyway, just to recap what had happened:
I had prepared some samples of commonly used boards in cabinetmaking – cherry, poplar, hard maple, ash, red oak and a mystery board which looked a lot like elm.  All were 5″ wide by 8″ long and were shipped to my victims – errr – volunteers by USPS Express Mail.
Dave Campbell is the deputy editor of Wood Magazine, and calls the Des Moines, Iowa area home.  Marc Spagnuolo is the Wood Whisperer himself, and has bounced between two homes in the Phoenix, Arizona area for the past few weeks.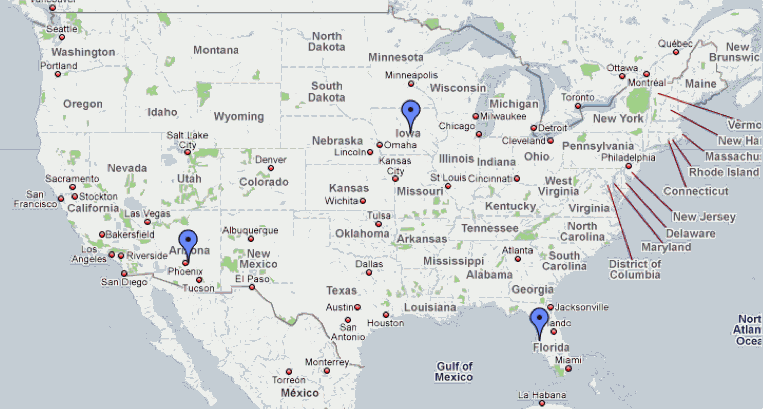 Both of these guys let their packet of sample boards aclimate to their shops for  about two weeks. I kept a third set of boards here in my Tampa, Florida area shop in the stifling heat and humidity.
Now for some notes about the experiment…  First of all, I discovered that I really need to tune my table saw.  I was having some discrepancies across the width of the board.  For instance, my sample of ash had a difference of .006 in the width of the 'top' of the board and the 'bottom' of the board.  Guess it's time to haul out the operator's manual and get busy on that…
Also, none  of the boards had appreciable expansion along their length.  This was the expected result because wood doesn't expand dramatically along the length of the fibers.  Of course, the next time I do something like this, I will cut the boards 5 inches square, so we can fit calipers across both dimensions….  Live and learn, right?
The width measurements were all taken in decimal inch measurements on or about June 8.  Just for your reference, the weather readings from the three cities on that day were:
Tampa, Florida – Mean temp: 79; Dew Point: 69
Tampa was its typical summer-like self.  The weather was exceptionally rainy at the start of June, and the added humidity made going into the shop a challenge.
Des Moines, Iowa – Mean Temp: 66; Dew Point: 65
Des Moines saw the passage of a frontal system which not only brought rain, but severe weather as well, with the touchdown of at least one confirmed tornado.
Phoenix, Arizona – Mean Temp: 84; Dew Point: 36
As with Tampa, Phoenix was enjoying – if you can use that word with a straight face – its typical hot and dry weather, with a dew point which seems just way too low for someone living in Florida.
The results were pretty interesting:
Cherry:
Tom –   5.014 inches wide
Dave –  4.995  inches wide
Marc –  4.938 inches wide
Poplar:
Tom – 5.007 inches wide
Dave – 5.004 inches wide
Marc – 4.938 inches wide
Maple:
Tom – 5.003 inches wide
Dave – 4.990 inches wide
Marc – 4.906 inches wide
Ash:
Tom – 5.002 inches wide
Dave – 5.001 inches wide
Marc – 4.875 inches wide
Red Oak:
Tom – 5.008 inches wide
Dave – 4.985 inches wide
Marc – 4.938 inches wide
Uhh, Elm?:
Tom – 5.003 inches wide
Dave – 4.996 inches wide
Marc – 4.875 inches wide
Since Des Moines' dew point was higher that its normal levels due to the increased rain, Dave's samples had considerably less movement than I had expected.  In many cases, the difference between widths was mere thousandths of an inch – something which could easily be accounted for given my faulty saw setup.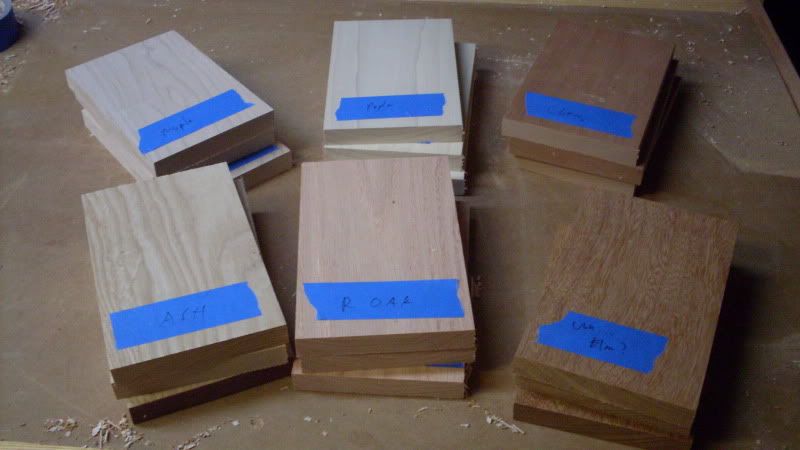 However, Marc's numbers were considerably smaller than the samples kept in my shop.  Going from the near tropical conditions in Florida to Phoenix's desert, the boards gave up their moisture content to equalize with the surrounding environment.  The ash sample was dramatic, shrinking nearly 1/8 of an inch across a five inch wide board over the two week period.
Even with my faulty science and measurement techniques, hopefully you have been able to see that yes, there is definitive evidence to suggest that wood does move over its width with changes in humidity.  This expansion and contraction does have to be accounted for in your construction methods, or the boards will crack or push apart the joints.  Floating solid wood door panels and table fasteners are some of the time-honored techniques for handling these expansions and contractions.
Will this be the end of the Great Wood Movement Experiment?  No way.  There are so many other aspects to check out… For instance, will boards of the same species expand and contract at the same rate if they are finished?  Will quartersawn or flatsawn boards expand the most?  Oh, so many wood samples to cut, so little time…
All I can say is that the Great Wood Movement Experiment of 2009 has been a moving experience for me.  I have to move myself out to the shop to get that saw tuned up!