This is the newest tool in my arsenal – a fresh-out-of-the-package Veritas Dovetail Saw.  It may have arrived at my home just yesterday, but the journey to this tool has taken nearly a decade.
When I first started woodworking, my first saw was a Craftsman fine toothed panel saw.  It was a great saw for what I was doing, but it was huge and – yes – I was also lured away by the siren's song of power tools.  Through  the following years, I have gotten my hands on some large  big-box Japanese style saws, a reversible 'dovetail' saw that flipped on its offset handle and some entry-level Japanese style saws from some of the larger online woodworking retailers.  They all did so-so work, and I always found myself making excuses for my poor saw work.
I thought I was in the clear about a year ago when I bought a new dozuki from Lee Valley.  It did cut beautifully, but the problem I had was that getting a grip on the traditional handle was kind of tricky.  I found myself gripping the saw slightly differently every time I picked it up, and my cuts would suffer.
While at the recent Woodworking Show in Tampa, I made a beeline to the Lee Valley booth.  There they were, all of the tools in the catalogs that I had drooled over for years.  Planes, chisels and measuring devices as far as the booth stretched.  While looking at all of the goodies, I saw the new Veritas Dovetail Saw sitting on a shelf.  I had read so many reviews of it, and I had been told by several woodworkers that I might be more successful with a western-style saw, I just had to pick it up and give it a try.  I was hooked and ordered one on the spot.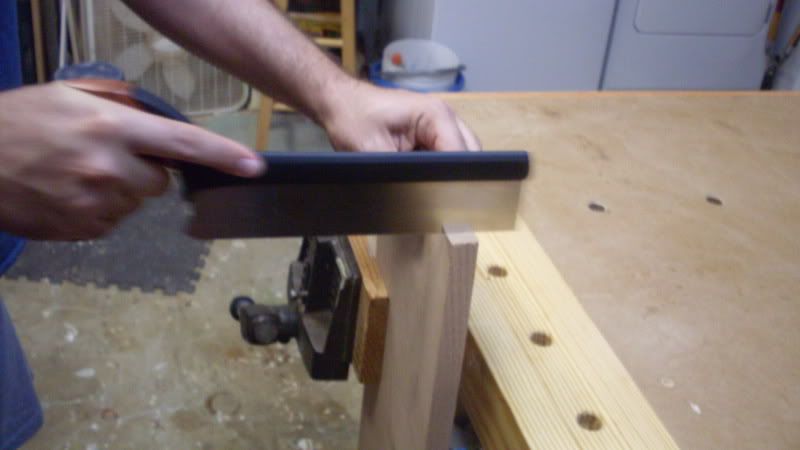 The saw is exceptionally well made, which has been my experience with all of the hand tools I have used from the Veritas line.  It's a substantially built saw with absolutely no wiggle or slop in the handle (which is held to the saw with post and nut similar to a plane handle).  The grip, which has been modeled after an antique saw's, seems to fit my hand perfectly.  The grip seems small at first, but you have to realize it's not designed for you to clench your fist over.  Simply wrap your thumb and three fingers around the handle, and point your index finger down the saw's spine.  This way, you will be 'pointing' to where your saw should go.  This is a very comfortable grip, and no matter how many times I picked up the saw, my hand rested in exactly the same spot.
The saw's teeth are angled back to 60 degrees, which is drastically different than my dozuki's teeth, which are 90 degrees to the blade.  The product literature says it's filed that way because it makes the saw easier to start… something I have struggled with on cheaper saws.
After handling the saw for a while, I just had to put it to use.  I clamped a piece of red oak in my vise and started cutting.  The saw starts easily by slightly tipping the nose down and pushing gently.  Not having to worry about my grip, I was able to focus on my body positioning and arm mechanics.  The saw cuts exceptionally well, taking about a dozen strokes with very minimal downward pressure to cut a one inch deep kerf.  The stiff blade and minimal tooth set helped keep the saw on track as I worked it through the cut.
The results were impressive.  Here is the board I used with the Veritas saw cuts in the group to the left and cuts made by my dozuki on the right.  While the Japanese saw's kerf was slightly narrower, the Veritas blade cut a very fine kerf as well.
After playing with the saw for a while, I finally buffed the blade with a little furniture paste wax, set the blade guard over the teeth and put it in the saw drawer of my tool chest.
A tool like this will be getting lots of use in my shop!