This past weekend, I went to the Tampa edition of the Woodworking Show, and I'm glad I did.
For those of you not familiar, the Woodworking Show is a traveling woodworking expo where woodworkers can come to see new tools, buy scads of new products and get a great deal of advice.  This is now my fourth year of attending the Tampa show, and every year I look forward to it.
This year, I noticed something very interesting and quite unexpected – the place was crowded.  Even in these uncertain economic times, woodworkers were packed shoulder to shoulder at demonstration booths taking in the presentations about Carter band saw guides, Grip Tite magnetic feather boards and the Prazi Chestmate dovetail jig.  I spoke with several of the exhibitors who all sang the same refrain – there has been a significant increase in attendance over  the past few years, and people were buying – the smaller items.
Oh, sure, the 'big iron' was there.  I got to see both Saw Stop table saw models at the same time, and the newly redesigned Delta Unisaw attracted a crowd.  However, those units were not moving as they had in years gone by.  To me, it appeared that the folks who were lovingly caressing the handles and cast iron tops were taking mental notes to consider a later purchase.
Surprisingly, there were very few 'brand new' designs being offered.  The folks at the Kreg Tools booth (one of the larger ones at the show) were even lamenting openly that the only really 'new' item they were offering was their brand new corner clamp to help with cabinet assembly.
While most of the tools weren't bleeding edge new to the industry, they were certainly new to me.  I finally had an opportunity to see the DeWalt and Festool track saws almost side-by-side (they were a two minute walk apart, but that was manageable).  I'm not sure which model is 'better', but both systems are very slick and quite an improvement over your basic circular saw.
I also rediscovered something about the craft – namely that there must be a thousand different ways to get from point A to point B.  No fewer than four 'dovetailing' systems were being demonstrated – systems that made through dovetails, half-blind dovetails, decorative dovetails… the works.
My favorite vendor booth was from Lee Valley tools. They had a great selection of chisels, planes, saws and other tools from their catalog, and had benches set up where customers could use them.  I had my eye on about a dozen tools, but the woodworking budget was far from enough to cover everything I wanted.  I settled on one of the new design Veritas dovetail saws, which should be coming in the next few days.
There was a new emphasis on hand tools at the show, with an exhibit area called the hand tool rodeo.  The presentation primarily covered the hand plane and was valuable in showing what the working parts were and how the functioned.  At this booth, a local woodworker had brought a selection of his own tools for expo goers to use.  It was a treat to use his massive beech jointer on a piece of cherry.  More to come on this…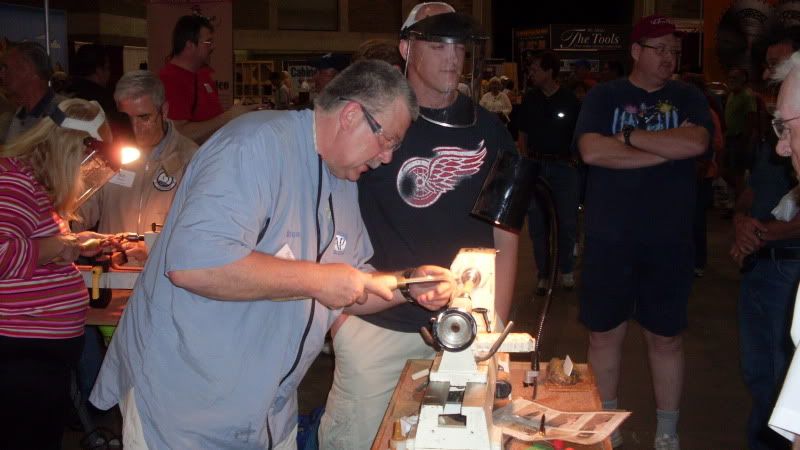 Tucked away on one side of the expo was one of the most valuable areas – it was the table set up for several of the local woodworking guilds.  There, local woodworkers and turners were showing off their projects and touting the advantages of joining the clubs.  I know this would run counter to the purpose of the expo, but I would have loved to have seen those tables in a more prominent place where they could have seen some additional traffic.
Finally, the best part were the education booths.  Wow, from cabinet building to finishing, those booths offered a great deal of advice for novice to advanced woodworkers.  Turning, finishing and cabinetmaking lessons were all taught, but the highlight of the show was the booth sponsored by Wood Magazine.  There, Jim Heavey was offering some common-sense woodworking tips to help stretch your woodworking dollar, get more accuracy in your cutting and improve the safety of your shop.
After six hours of wandering the Florida State Fairgrounds entertainment hall, I was beat.  But, I also left the expo feeling recharged, wanting to get out into the shop to try some of the new techniques I learned and tools I purchased.
All in all, an excellent way to spend a Saturday.