May, 2005
This was a project I was reluctant to start. After all, the top is a gorgeous slab of tiger maple, and the legs are some beautiful ribbon grain mahogany. How was I supposed to grind half of that away?
I built this bench with the assistance of the Wood Whisperer himself, Marc Spagnuolo. Once the wood was selected, the top was ripped into three pieces, the middle one trimmed down to form open slots on both ends and it was glued together. The tops of the legs were cut into beefy mortises and fitted into the slots.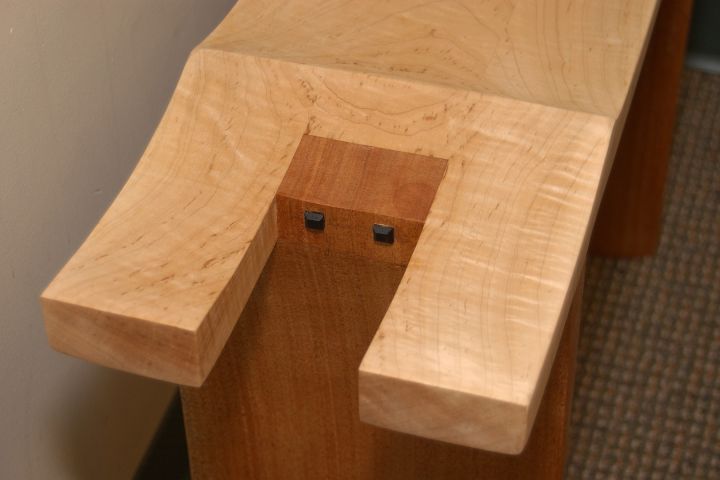 That's when the fun really began. Using an angle grinder and an Arbortech carving wheel, I wasted out the necessary material to sculpt the graceful forms. Once the curves were finally cut and finessed, I used epoxy and screws to attach the legs to the seat, and plugged the screw holes with pyramid-shaped ebony plugs.
The finish was a 1# cut of dewaxed shellac sanded down with 320 grit paper once it dried. After dusting the piece down, I finished it with three coats of natural Watco Danish Oil and a coat of paste furniture wax.
This piece won best in its class in an art contest conducted by the National Arts Program, and it has an honored place in our living room, right under one of our large sunny front windows.
Now, all the neighbors want one…