If you think about retirees in Florida, your thoughts might turn to leisurely rounds of golf, early bird specials and people driving slowly in the left lane.
For some retirees in Sun City Center, just outside of Tampa, Florida, retirement is definitely covered in sawdust. That's where you'll find the Sawdust Engineers, a group of woodworking retirees who are making a difference in the local community.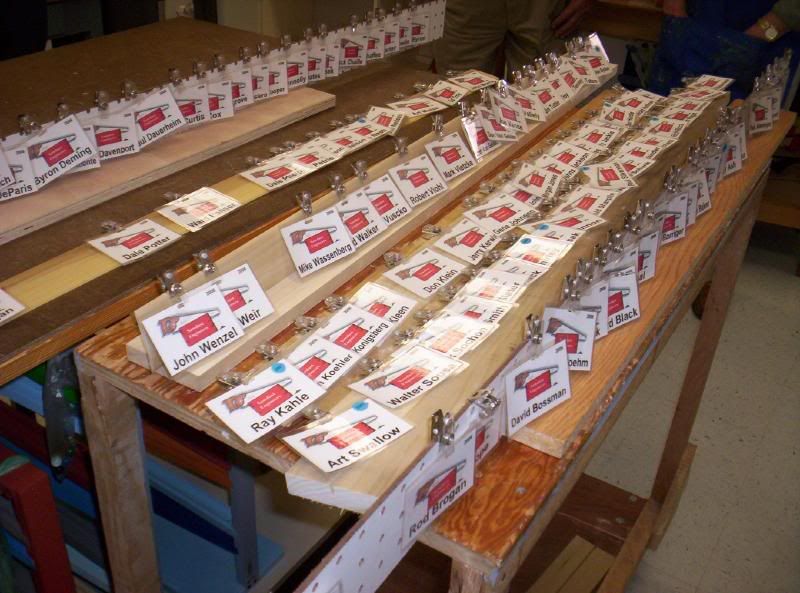 (click on images for larger versions) This tight band of nearly 350 woodworkers help to make this 501(c) 3 charity work. The Sawdust Engineers tackle many charitable projects from their shop. From building math and spelling puzzles for Hillsborough County, Florida school teachers to use in their classes to foot lockers for teens at a local shelter, each of the woodworkers feels pride in the work that they do to help others.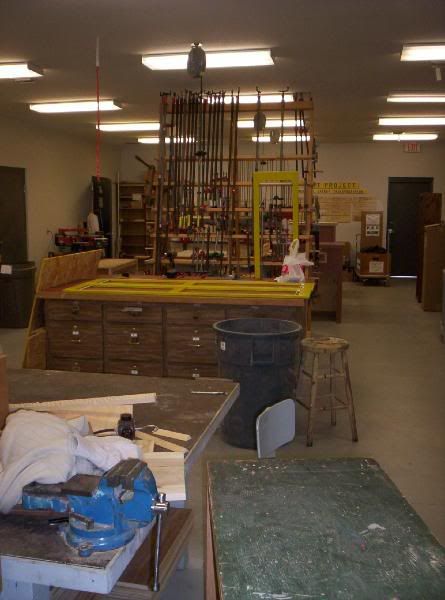 One of the most interesting projects they are undertaking is the nationwide Personal Energy Transportation (PET) project. Templates for parts of hand-powered wheelchairs hang from the wall, and when members have the opportunity, they cut, sand and drill a few dozen parts for each of the chairs. The parts are sent to assembly facilities and put together. They are then sent overseas to countries in Africa, Asia and Central America where diseases such as polio and hazards like land mines have disabled many residents. "Even though the people getting the PETs may be maimed, they still want to be independent to provide for themselves and their families," said PET program coordinator Jerry Beavon. "These chairs returns the freedom to them that they thought was lost forever."
The Sawdust Engineers had their humble beginning back in 1962 with Sun City Center developer Dell Webb. Mr. Webb knew that many of the retirees moving to this sunny spot were cabinetmakers and carpenters during their working year, or spent time in the shop a hobby. Mr. Webb started the tool collection by donating a table saw, drill press and some space in the community center.
While the original tools are gone, the Sawdust Engineers are not wanting in that category. A large, comfortable shop is stocked with cabinet saws, planers, jointers and the other large shop machinery any good workshop needs. Another room stores the routers, sanders and other hand held power tools to round out the complement.
Most of the tools are donated by members or their families when they can no longer use them. Others are brand new, selected for safety as well as performance. The group recently bought a brand new Saw Stop cabinet saw. "You can't stop thinking about safety."
When new members sign up to become Sawdust Engineers, they must take a seven hour safety class – regardless of their level of experience. "Every shop has its own peculiar ways of operating," said Houck. "It takes some time to get used to each of the machines, no matter how much you know."
Houk is a typical example of how most members join. A retiree since 1985, he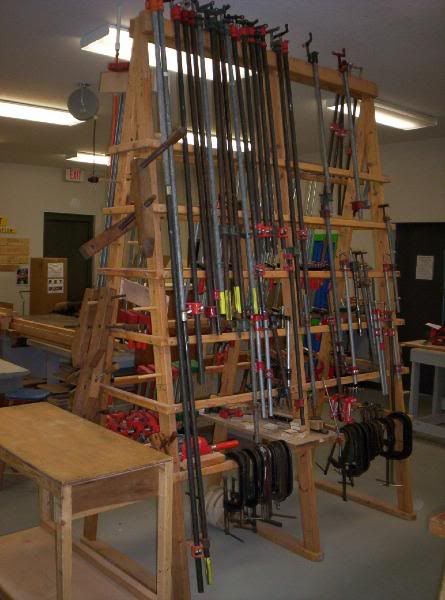 and his wife found their spacious home and yard in Maryland too much to take care of. In 1999, he and his wife came to Sun City Center to find a smaller home and warmer weather to enjoy during the cold winters. While they were touring the community to see if it fit their needs, Houck discovered Sun City Center was the place for him. "Oh, it looked like a great place to move to, but when the agent brought us through the shop, my decision was made right then. I turned to my wife and said, 'this is the place for me!'"
While the shop does a great deal of charity work, members also have the opportunity to use the facilities to build their own projects. Since the Sawdust Engineers are a charity, members have to abide by the rules – the projects can be for their use or to give as gifts, but the members can't make a profit from the sale of the items. Needless to say, some of the most popular personal projects include cradles,cribs and toys for grandchildren back north.
The facility contains nearly 5,000 square feet, which is divided between the machine room and a spacious assembly area. There is also an office (which doubles as the group's reference library), a tool room, a dedicated paint room and a toy display room for area teachers to look for items for their classroom.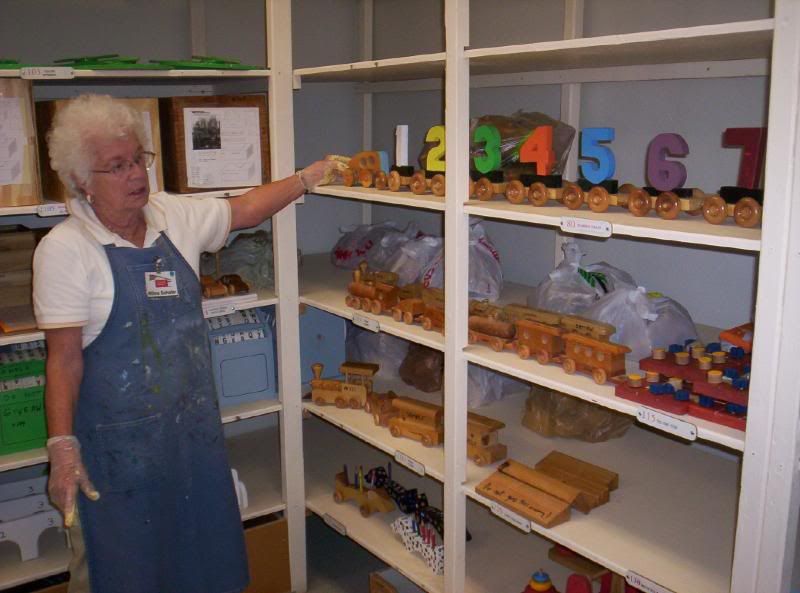 In the paint room, I met Wilma Schafer, the paint coordinator. Hands covered in bright yellow paint, she explained how the painting crew, as some of the ladies in the club are affectionately known, takes great pains to lovingly sand each piece slated for school projects and coat it in non-toxic paint. "You never know when one of the little ones will put this into their mouths."
Members pay annual dues of $15, and other community organizations and individuals help with donations. Each year, the Sawdust Engineers set up a booth next to the other craft organizations to sell a number of their projects at Sun City Center's annual Fun Fest.
The Sawdust Engineers' charitable work is well known in Sun City and in the surrounding areas. They get a great deal of their supplies and lumber for their charitable projects donated by local sawyers and hardwood dealers. And, when one of their long time contributors unexpectedly stopped donating, anonymous contributors sent in money so the club could continue turning out projects. "It gave me a very good feeling to see that outpouring of generosity," said Houck. "I guess we're doing a pretty good job, and people are recognizing it."