November, 2007
Way back in 1994, my wife and I were living in a small apartment in St. Pete Beach on the lovely Gulf of Mexico. And, in that tiny apartment, all we had room for was a tiny dining room table.
Well, that table served us well for 13 years, but our situation definitely changed. With two kids, a house of our own and relatives who like to come over for holidays, our dining needs have increased. What we needed was a table that could sit four of us for day-to-day family dining, but expand to fit a houseful of guests. And, since we didn't want to give up any of our precious storage space, any table extension leaves had to be stored within the table itself.
I pored over ideas for a project that would fill the bill, but was stuck. Finally, I remembered that in the house I grew up in, we had what is known as a draw-leaf table, with extensions that stored under the table. I had to look long and hard to find plans, but eventually discovered Tage Frid's plan for a 'Dutch Pullout' table he had published in Fine Woodworking magazine. I found the plan in a book called Tage Frid Teaches Woodworking. You can also find the plans at Fine Woodworking's website, but you will have to subscribe for the service.
I built the table with a poplar base, since it was going to be painted. The stretchers are mortised into the tapered legs.
The table running gear is pretty interesting. Basically, the leaves are attached to tapered runners. The taper rises 3/4″ – the same height as the table top's thickness – as they are pulled out. This means that the leaves slide nicely under the main table top when not in use – saving valuable storage space in a house that's already cramped with toys, books and the other stuff that goes along with being a homeowner.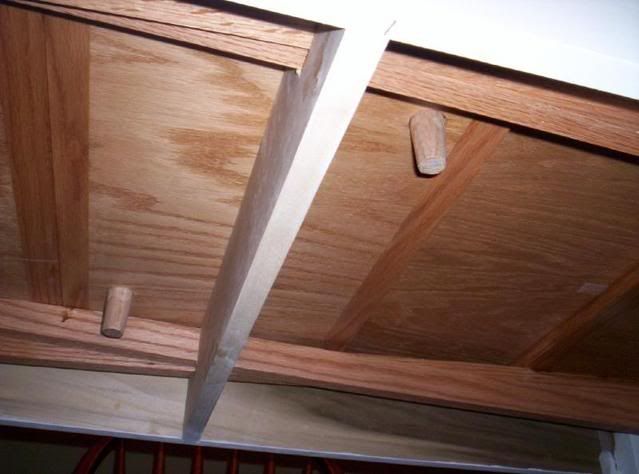 The main top indexes with 3/4″ dowels glued into the underside of the top. They go through a set of holes in the middle fixed sub-top. That allows the main table top to rise as the leaves are extended. A pretty clever design.
The base was painted with a sponge-rubber roller – a coat of Kilz II. Sanded when dry. Two topcoats of a white latex enamel. The top was finished with a coat of 1# dewaxed shellac, sanded, then seven coats of Waterlox glossy. I had to tint coats three and four to achieve a darker tone on the table.
I raced to get the table done in time for Thanskgiving… and moved it to the dining room the Tuesday of Thanksgiving week. Whew.
For the big day, we were able to seat 10 around the table. Quite an improvement over using the card table.