In my real job, I work in a busy communications office where we frequently hold meetings about important happenings. In our conference room, we have a laptop computer and an LCD projector. We can tie into the Internet, play PowerPoint presentations, show video etc.
But, yuck. The tangle of cables. The exposed computer. So, one day, my boss turned to me and asked, "Can you build us something?"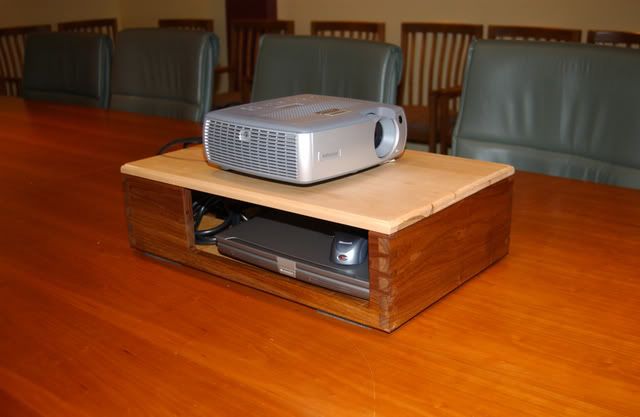 Does that qualify as something?
The design was one I had sketched up from scratch. It's a mahogany box with a maple top hinged on. There's a 'garage' where the computer can go in to hide, a hole in the bottom of the box for the power and internet connections and a cable hole for the data and power cords for the projector. I dovetailed the corner with the Keller dovetail jig.
The finish was a 1# cut of dewaxed shellac, buffed out with #0000 steel wool after it had cured for four hours. Then, I used two coats of Watco natural Danish Oil. After that cured, I waxed the piece with Minwax furniture wax. It's not a table top, but it should stand up nicely to the rigors of long meetings.
Nice piece sez everyone.
And, if you have to work on the connections, the top lifts up for easy access to the works. This is a better set up than having a projector permanently mounted from the ceiling, because if we ever have to move the equipment to a new location, we can disconnect it and take it with us.
So, what about you? Do you have a project you want to brag on? Be sure to e-mail me if you want to share.