My shop fills a standard two-car garage in a typical Florida ranch house. Which means I have about 400 square feet of area to work with.. a pretty decent amount of floor space to do woodworking. But, only if it's laid out well. Otherwise, you are going to end up with huge areas of dead space and tools you can't access.
I recently reclaimed a ton of space when I built my miter bench setup across the back wall of my shop, but I still needed MORE space!  Why? Well, I have got to have some more locations to set up a few new tools. But, where the heck will I find it? Knock down a wall and expand?  I looked around the shop for a while, and then a thought hit me…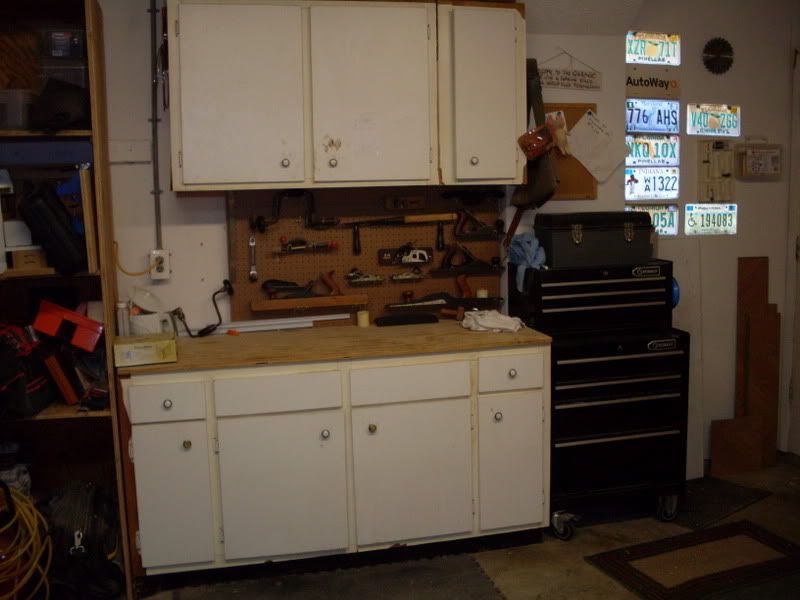 What exactly is in this side bench?  This is an old base cabinet I had gotten from a friend who was redoing his kitchen. And, I had put it into the shop about six years ago, and it was a nice area to put some planes onto, and it collected a lot of stuff that just 'landed' in the garage from the living area. But, what was inside?  I decided to reach in to see what was there. I was stunned.
The two pull-out drawers were full of useful stuff. Safety glasses, gloves, new respirator filters.  That was nice. But, under the cabinet, behind the drawers? Holy smokes. Some miscellaneous hardware. A few attachments I was never going to use for my air compressor. Empty blow-molded tool cases. A few old sheets to use as drop cloths. Man, what a bunch of junk! This stuff should have been pitched years ago, but for some reason, I held on to it. I guess I was waiting for it to age to perfection.
Since this served more as a place for my plane till to sit (and my bike to rest against), I decided that it was going to have to go. At nearly six feet long and two feet deep, I figured if I removed the cabinet, I was going to get myself quite a bit of square footage to work with. So, that's exactly what I did this past weekend.
Fortunately, it took removing only a few screws to get the cabinet free, and with a healthy tug (I'm glad I didn't put my back out), the entire cabinet pulled out from the space. Sliding the cabinet across the shop floor stunk as well, but I managed to muscle it outside into the side yard, ready to be chucked this coming Friday in the huge trash pick up day.
The area was very grungy. Lots of dust got behind and under the cabinet, so the broom and shop vac made an appearance to get the area cleaned up and ready to be thrown back into use.
Right now, it's full of stuff that's being stored, but over the next week or so, I think there will be some new shop features taking up space there. But, those are some other posts for another day…