Have you ever wondered just what the heck my shop looks like? Sometimes, with my work schedule this time of the year, I wonder too…
Well, my old digital camera died, and I got a new one. Rather than snap pictures of the kids, I took the opportunity (or used it as a good enough excuse) to finally get out into the shop and take a few pictures.
This was a gift from my wife – sort of a little bit of a welcome to the shop sign. I kinda like it – and I remind everyone about its status when they arrive.
This is the shop overview shot – what you might see on a typical weekend day if you stroll past the front of my house. Yes, I have converted the two car garage into my shop. It's a comfortably sized space that I share with some kids toys, some mechanical systems and the laundry equipment.
This is what you see at first when you look to the right as you walk into the shop. Here's where the rolling clamp rack, 14″ band saw and dust collector are parked here. This is also where I keep the scrap buckets for offcuts.
This entirely unattractive piece (which doesn't lean nearly as badly as the camera is making it appear to – guess I have to learn how to take better pictures) of shop storage I threw together from two pieces of 3/4″ CDX plywood. I needed a way to stack up some of the tools I had acquired, and this fills the bill. Compressor at the bottom, router equipment up from there, pocket screw jig and sharpening equipment above that, and tool rehab projects in the plastic bins on top.
This is my side bench. The cabinets came from a friend's kitchen remodel, and serve me well in the shop. The uppers store my finishing supplies, the lowers store hardware, finishing rags and other goodies. This is also the location of the plane shrine. The top is an excellent place for me to stage project parts when I'm working on other components on the main bench.
Also, you'll notice my rolling tool cart I got last Christmas. It holds most of my hand tools, keeping them dust free and easy to grab.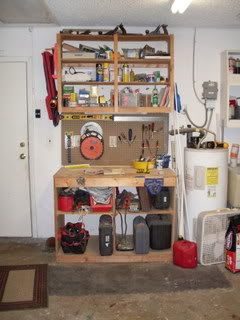 This piece is my front bench. The lowers store power hand tools, while the uppers hold fasteners, glue, tape and other goodies. I will do some work on smaller projects and parts of larger ones, and I do most of my sharpening here. Unfortunately, this is also the surface closest to the door, so my wife will leave things that have to go back out to the garage here as well. It can get cluttered!
Of course, this is my Ridgid table saw. Since it's right at the garage door entrance, I can rip longer pieces easily by opening the door. You can see I also built a router table top into the right wing. I have a Freud FT2000 mounted under there, which does a great job. I spend a good deal of time in this area.
Here's my big ugly bench. Work on the top, and storage for the spindle sander and planer below (which also happens to add a great deal of mass to the bench – a big plus). The bench serves as and outfeed table. Normally, I can work up near the vise and rip off the table saw and not have issues… I just have to make sure I can clear the stuff on the bench top.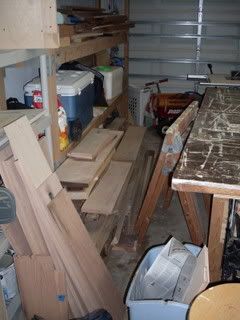 Shhhh… I don't want anyone to know about this area… but most of my wood stash was given to me by some friends and other 'people' who don't want to be named. It's a decent pile of cherry, walnut, maple, poplar and oak. I could tell you where I got it, but I'd have to kill you after. Ultimately, I need to find a better place for this stack somewhere else in the shop (perhaps overhead). But, for right now, it's an OK set up.
Now, for a quick matter of blog housekeeping – my wife and I are celebrating our 15th anniversary this week – so, don't look for a link of the week this week. I'll be back on Sunday, however, with a brand new quick poll.
Thanks for visiting!