Ridgid model 3612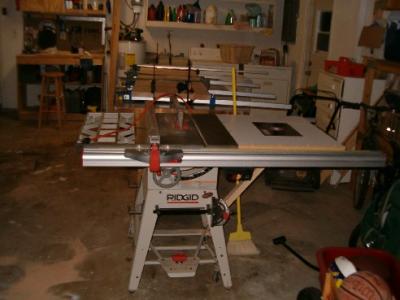 My first table saw was a Delta benchtop model. It worked OK for a year and a half, but, as I quickly discovered, a 12″ rip capacity is really too puny to get serious work done. So, back in 2001, I upgraded to the Ridgid table saw I had been drooling over at the Home Depot. Some of the features that caught my attention were:
A 36″ rip capacity – larger than most contractor saws.
A beefy rip fence with t-track built in.
The saw came with with the Herc-u-lift caster system. I work in a two car garage and have to move the saw frequently to get it out of the way. Without a caster system, I couldn't easily use such a big saw in my small shop.
The Ridgid uses a very easy-on, easy-off blade guard and splitter. This is a VERY IMPORTANT feature of the saw. Obviously, you can't use a splitter when you dado or rabbet, so it has to be removed for these operations. I can have it off in about five seconds, and right back on again – perfectly aligned – in the same amount of time.
The saw has micro-adjustments for blade alignment. Rather than unbolting the entire trunnion assembly and wrenching it the very small distance to get the blade parallel with the fence, you simply loosen a bolt where the manual tells you to, and you can inch everything into alignment – no fuss, no muss.
The saw came with a lifetime warranty.
The saw's motor is built by Emerson Electric who used to build Craftsman motors back in the day.
The saw easily handles a 8″ stacked dado blade.
The saw always seems to rate well in magazine reviews.
There are a few downsides to the saw.
It is a contractor's saw with the motor hanging out the back and the cabinet open, so dust collection can be a problem. In fact, my most effective dust control scheme is to open the garage door when I cut and blow a fan outside…
The saw can bog down on rip cuts in thick hardwoods due to it's 1.5 horsepower motor. I have overcome most of the problems by using a 24 tooth rip blade, dialing in the blade parallelism and feeding the stock carefully while listening to how the saw is performing.
It does take quite a few turns of the handwheel to raise the blade. This is great if you are trying to nudge the blade up to make a slight adjustment, but it takes more time to get the blade to the right height for other cuts.
Of course I have tricked out my saw. Besides building many panel cutting, tapering and other shop-made jigs, I added an Osborne EB-3 miter gauge. That sucker really cuts spot-on angles, has a flip-down stop to allow consistent cut lengths and allows a lot of support for stock while cutting.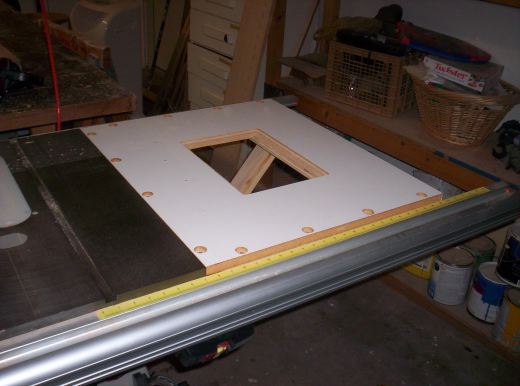 I also replaced the left cast iron wing with a home-built router table. I routed it out to accept a Rousseau router plate (which supports a Freud FT 2000 router). I can use the saw's rip fence as a fence for the router table, which allows me the same micro-adjustability that benefits me using the saw blade.
Since I may have to rout and rip moldings, I also have an auxiliary router table top that I can set up on a Black and Decker Workmate so I can dedicate a station to each task.
While you can no longer buy the saw brand new from Home Depot, you can get the follow on model – the 3650 – which has many of the same rock solid features found on my saw. While I do dream about upgrading to a high-performance cabinet saw, I have found my saw to be an effective performer that has yet to let me down.