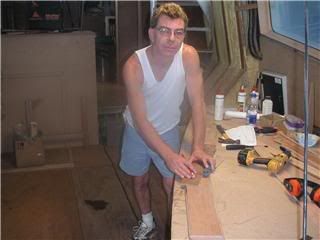 When woodworkers speak about the challenges they face, they normally mention something like cutting tight-fitting joints, selecting the proper wood and achieving a flawless finish. Now, imagine stepping up the challenge dramatically by working on a project entirely of curves, exposed to salt water and worth several million dollars.
That's exactly what South African woodworker Francois Durocher tackles every day. Francois custom finishes the insides of expensive yachts with beautiful hardwoods, including teak, cherry and kiaat. His work is crisp, precise and accurate using skills he has honed for thirty years. "Way back in 1978, I helped my brother build a yacht. It took two years, and I learned a lot. After that, I moved to Durban and worked four years under a master craftsman from Hungary who really showed me the ropes."<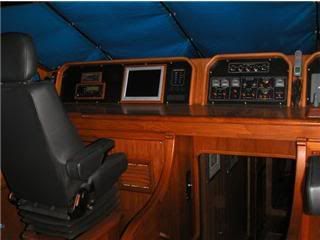 Achieving these outstanding results takes time, patience and a lot of planning. After receiving the yacht's unfinished hull, it is taken to the boatyard where it first has to be set perfectly level to help make the woodwork easier. Once set, measurements are taken, pencil is put to paper and the real planning work begins in earnest. It typically takes several months to arrive at a plan that is both workable and approved by the client.
Actual woodworking is done in a very methodical manner. Drawn plans are transferred to particleboard to make accurate patterns to fit the yacht's curves. This way, all cuts can be carefully executed to ensure an absolute minimum of waste and a very tight fit.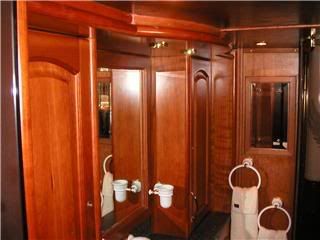 With all of these curves, two tools are essential in Francois' arsenal. "I'd really have a difficult time working without a band saw with a 6 mm blade and my router and bit collection. They give me the control and flexibility I need."
Nearly every piece of wood, save some specialized molding, is milled on site, allowing Francois the ability to choose the right piece of wood for the job. "I look at each board's grain, color and figure to make sure it's right for the place I'm putting it. I like all of the wood we work with, but, by far, my favorite one is teak."
While it's difficult enough to cut the intricate pieces and ensure the client is satisfied, the job becomes even more challenging working around the other trades. "Electricians, plumbers, mechanics… it can get quite challenging trying to coordinate the timing of projects and making sure we aren't running into each other."
Finishing out a yacht can take more than two years from planning to her maiden voyage. And, as the process draws to a close, there's satisfaction in even the smallest details. "I am so satisfied when I get the finish on the wood decks and put up the 'No Shoes Allowed' sign. I know that the end is in sight and we're getting close."
You might expect the owners of these hand-crafted beauties to forget who did all of the work once the yacht is delivered, but that's not the case. When Francois finished a yacht called Pegasus back in 2005, the owner invited him out for the first cruise. "The day it launched, we fired up the engine and went for a test run. The next day we fitted all the windscreen wipers and then went to top up the tank with diesel. Now it was time to go deep sea far out for sea trials which took about 6 hours. It was awesome to say the least."
I'd be willing to bet the owner felt the same way about the craftsmanship.