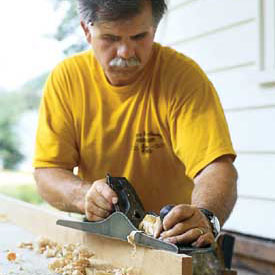 Leave it to the guys at the longest-running home improvement show to tackle the task of teaching their readers how to choose and use hand planes.
The show's general contractor, Tom Silva,  shows the article's readers the difference between the different kinds of planes (jointers, jacks, smoothers, blocks and specialty planes), how to sharpen the irons and how to tune the plane up to get the best results.
The accompanying pictures show Silva clearly demonstrating the proper planing techniques, including the right way hold the plane and how the curls should look as they come off the board.
Sure, this isn't an in depth dissertation on the finer points of plane craft, but it's an excellent way to get your feet wet in the wonderful world of hand planes.